Sometimes your church has information everyone should see, and with the new Announcements feature in Check-Ins, you can make that happen! Now, you can share an announcement with every person who checks in by showing them a message to read before their check-in is complete.
You can use announcements for quick reminders like, Don't forget to check out our upcoming service opportunities in the Welcome Center.
But if your church is just beginning to meet in-person again, you also might find an announcement helpful to double-triple-check people are healthy before attending an event, service or class.
As people check in, your announcement will pop up on all stations—self, roster, and manned— and ask attendees to confirm before continuing. The announcement will also show up during pre-check through the Church Center app (available in the next update) so you can continue offering a touchless check-in experience.
To enable this feature, navigate to the settings page of any event on the admin side of Check-Ins and you'll see a new Announcements section on the bottom right. Make sure you've checked "enable announcement" once you're ready to make that live.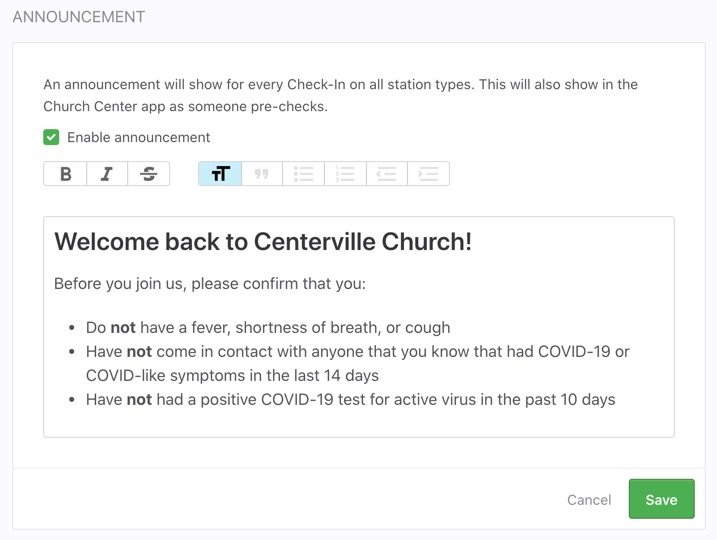 It's important to note: these announcements are informational only, and will not be tracked per check-in. If you want to make sure you track people's agreement with the message, we'd suggest using Forms or questions with Registrations.
Enjoy!
Team Check-Ins